Mission and History
Tsing Hua Interdisciplinary Program was formerly known as the "special admission: interdisciplinary program" which was belonged to the Office of Academic Affair. It aims to discover extraordinary students in diverse areas by looking beyond grades. On August 1st, 2015, it was moved to the teaching division of Tsing Hua College and restructured as Tsing Hua Interdisciplinary Program.
In 2007, Tsing Hua was the first university to start the interdisciplinary program and started to recruit outstanding student athletics through College Admission.
In 2009, Music Group was established to recruit talented music students.
In 2011, The Program started to enroll in talented art students (Art Group). In the next year, Fundamental Science Group was established.
In 2013, Sunrise Group was established to enroll in economically challenged students.
In 2014, Tsing Hua Interdisciplinary Program started to recruit Mainland Chinese Student. The first admitted Mainland Chinese students started their studies in September 2014.
In 2015, Group Innovative and Design, Group F (renamed Innovative and Entrepreneurship Group), Overseas Chinese Students Group, and Gleaner's Project added in the program. The first admitted overseas Chinese students started their studies in September 2015.
In 2017, the program created Interdisciplinary Education Group for the change of school's policy due to the merger with NHCUE (National Hsinchu University of Education).
Also, the program started to recruit foreign students in adopting the policy of the Office of Academic Affair.
Mission
The educational philosophy of the Tsing Hua Interdisciplinary Program is to incubate innovative talents from cross-disciplinary fields. To achieve the goal, the program breaks the ossified education system and delivers a diversified education through five approaches: flexible department selection, mentoring, adaptive education, interdisciplinary learning, and experimental education.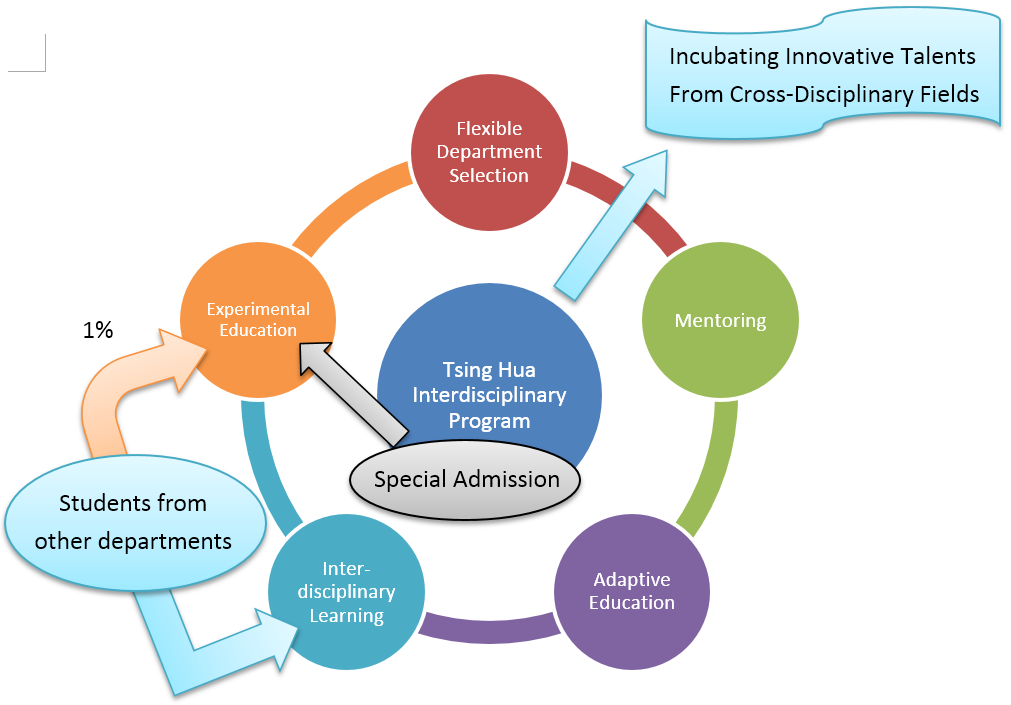 Philosophy and Goals